- Dieser Artikel enthält Werbung & Werbelinks. -
- This post contains ads and affiliate-links. -
We combine masculinity, strength and rebellion with leather jackets. There is probably no other piece of clothing that is more brimming with coolness. For decades the mostly black leather jacket has shaped the fashion world and is always present on the streets of this world. The all-rounder goes with a flower dress as well as with jeans. The combination possibilities are countless. We show how to style the classic leather jacket in black and also colourful ones
History of leather jackets
What turned the favourite in our wardrobe a fashion classic
Originally the leather jacket served pilots as warm and weatherproof clothing. But it soon became popular in the circles of motorcyclists. The enormous popularity can be traced back to movies like Grease.
How to style a black leather jacket
Leather jacket, T-shirt and jeans – simple and iconic
When two fashion classics meet, this is a guarantee for a look with natural coolness. The otherwise hard-wearing leather jacket becomes effortless chic with this combination of jeans and T-shirt.
I was wearing:
Leather Jacket – TRF Zara
Jeans – H&M
Playboy Shirt – Maison LaBiche
Boots – Tamaris
Leather jacket styling: Casual with wide pants
To counteract the leather jacket in its hard image and to loosen up the outfit, it can be combined with wide trousers. Through flowing fabrics they offer the ideal contrast program.
A homage to simple elegance – the all-over black look
Wearing a black leather jacket in a simple black all-over look is probably the most elegant and nevertheless the simplest combination. The nonchalance can be worn more elegantly with jumpsuit and high heels or more relaxed with black jeans.
You can find the 3 most beautiful black leather jackets from the online shops here:
Tigha leather jacket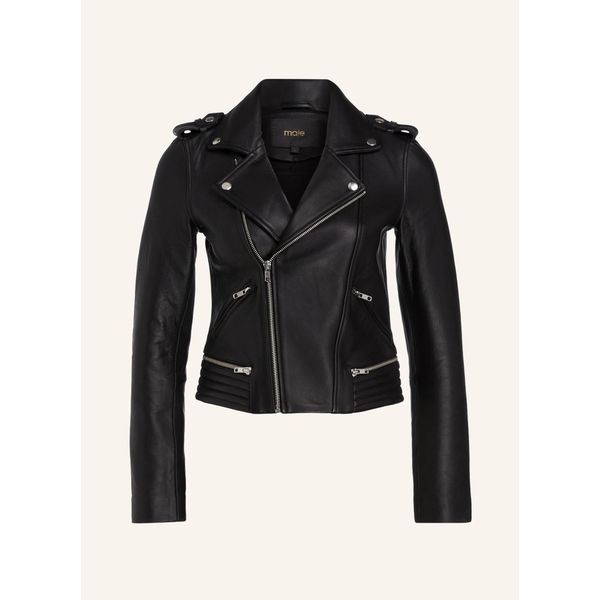 Maje leather jacket
Review leather jacket
Styling colourful leather jackets:
Yellow leather jacket with a sporty look
The combination with yellow can quickly go wrong, especially in combination with black. The hard break can be loosened up with white. In this look I chose black sporty pants, white sneakers and a matching white t-shirt. On the other hand, the combination of yellow and grey always looks harmonious. When it comes to colour combinations, of course, you can always combine what you like. But there are softer and harder combinations. The tone-in-tone look can quickly look overloaded with yellow.
Monochrome – leather jacket in tone-in-tone look
Combining a gold leather jacket can be complicated. Due to the strong colour the look quickly looks overloaded. But the golden leather coat can stand out in a simple and elegant tone-in-tone look. In combination with beige this is easily achieved.
Golden leather coat with mom jeans
Gold is often left out when choosing the colour of the leather jacket. The colour quickly pushes itself into the foreground. But the galactic shimmering piece can be loud if the rest of the looks are reduced. That's why I have combined a mom jeans with a golden leather coat in this outfit. And a beige knitted sweater. Beige complements gold perfectly without being obtrusive. A monochrome tone-in-tone look works very well with gold in balance with beige. The black boots round off the casual look.
Red leather jacket mixed with grey
The combination of red and grey has a particularly harmonious effect. Similar to yellow. The colour neutralises every extreme. Combining the leather jacket with a hoodie always looks relaxed and can be worn to get breakfast on Sundays. For this combination, the grey jogging pants are also ideal. An ideal Sunday look, which does not allow boredom by the eye-catcher color. If you want to wear this look in everyday life, you can also choose grey skinny jeans. This makes the look suitable for the office, depending on the industry.
The most beautiful colorful leather jackets in the online stores for you to buy
Freaky Nation leather jacket
Amy Vermont leather jacket
Maze leather coat
Maze leather jacket
In winter a shearling jacket is a good idea. Here the suede jacket gets a fake-fur upgrade.
This might also interest you
Goodbye dry skin: Homemade Body Scrub
Becoming a political pop star: What we really think about Michelle Obamas autobiography
Say it with a shirt: Styling Statement Shirts